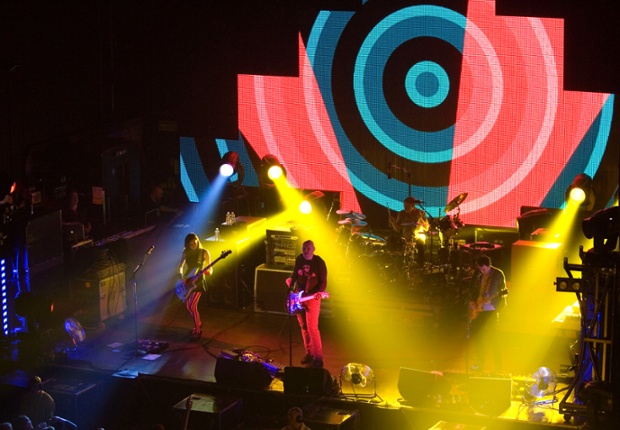 There were more than a fair share of wankers at the Glastonbury 2013 as it went corporate in a way that would have had Michael Gove and co rocking-in-the-private-world.In the year of the release of "The Great Gatsby" , a film that im not minded to watch as i found the Novel to be a bit two-dimensional compared to the far more sophisticated handling of the subject of status , wealth and position handling of Edith Whartons "The House of Mirth" , it was like the last hurrah of the commercialisation of the Music Industry with spoon fed acts and baby-boomers spending their easy earned money before the kids , already reeling with debt before they even attend their first lecture , start asking for loans.
One of the few exceptions to this circus of clowns was the entrance of The Smashing Pumpkins , a band known to revel in the Alternative rock scene not because they can churn out hits ,but to avoid playing to the gallery when they want to do their own thing with music.What one would call a band with integrity.
The performance at Glastonbury got very good reviews including this one "One of the biggest anomalies on this year's bill had to be the inclusion of Smashing Pumpkins. Aside from being renowned as unpredictable at best, their placing near the top of the Other Stage bill just below headliners The xx was something of a bold move. Even back in the days with the classic line-up of Corgan, Iha, Wretzky and Chamberlin their live shows often tended to veer from the sublime to the unwatchable at the drop of a hat. So it gives me immense pleasure to report Billy Corgan and co. effortlessly pull off their first trip to Glastonbury since 1997. Taking to the stage like ducks to water, Corgan in remarkably jovial mood throughout, they play a set heavy on material from comeback albums Zeitgeist and Oceania, and while the likes of 'Today', 'Bullet With Butterfly Wings' and 'Disarm' find themselves greeted like old school friends, the newer songs sound anything but out of place. At one point we're even treated to an impromptu cover of David Bowie's 'Space Oddity', and while nothing is aired this evening from breakthrough long player Gish, it's little more than a minor gripe for what was a glorious return to form on one of the most daunting stages of all."
So it was a great treat to see Smashing Pumpkins come to a small venue with their Stadium Tour set in a month in which they will celebrate the 25th anniversary of the first time they performed a live stage set.
T
hey performed 25 songs including a cover of David Bowie and Led Zeppelin
as a very relaxed and jovial band leader felt most at home with an enthusiastic , loyal crowd spanning all 25 years of the bands career.
Three major highlights for me were , Bullet With Butterfly Wings
The super rabble-rousing Tonight
and Starz , this version is from the Glastonbury set in what is over an hours worth of high quality footage: