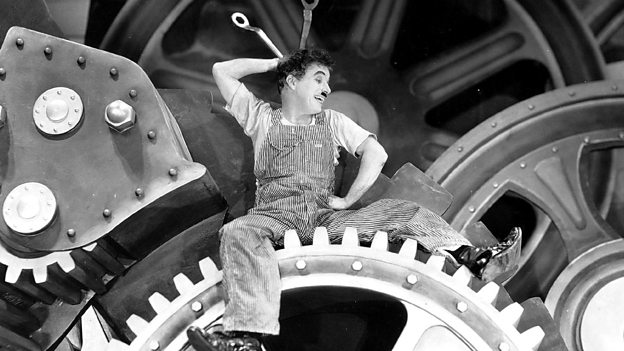 For the very first time in Scotland the classic Charlie Chaplin film was shown with a full live orchestra playing the score written by Chaplin himself, restored and conducted by Timothy Brock.
This was to commemorate the 100th anniversary of the first screen appearance of the famous tramp character in film.
The film was one of the last great silent films made in an era when sound was taking over.Originally planned as an audio film Chaplin realised that the silent approach would create a better impact for his theme of the ordinary little man taking on the system of elites , who are the only ones granted the privilege of sound in the film critique of industrialised complex versus the citizen.
The musical score itself took over six months to complete , when ten days is the norm even today.Chaplin would play chords on his violin , tap out the notes on piano whilst his musical assistant arranger would convert the score into readable music for a large orchestra of over sixty four players.Though convoluted and requiring expertise help , it is very fair to say the score is Chaplins own work.
This review from The Scotsman sums up the historical evening.
"Such was the authentically Hollywood-style sweep and the velvety sonic sheen to the orchestra's playing, not to mention Brock's effortlessly impeccable synchronisation with the images (he clearly knew both the movie and the music inside out), that the score seemed to flow directly from the screen. It was only the bright immediacy of the sound and the vivid colours that Brock drew from the BBC SSO players – who were on top form, and seemed to relish the score's lush melodies and sometimes frenetic rhythms – that reminded you there was a live band playing at all."