Barca played the game as it should be.
Chelsea had other ideas.
Check-out this video , It cost millions to put together:
Worth every penny.
What makes you think this man was biased
I thought he played a blinder.
But its good to see Drogba is taking this philosophically: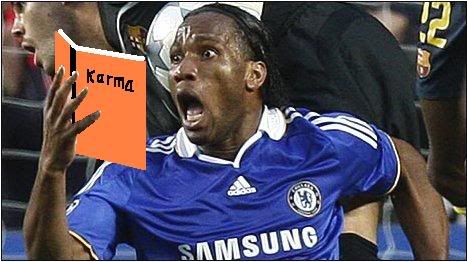 The referee called 2 of the decisions right , and the two errors were from the assistant who should have "assisted" the referee as he had a better angle.All in All the ref got 4/4 , 100% right.
The the referees do have a case , and this is where Drogbas Karma may help, in that Players literally taking "dives" do not help decision making.More so than referees players and managers have to make a "gentlemans agreement" not to "fool" the ref.That would help the most.
The Anger from the Chelsea players was mainly misplaced frustration emanating from a major strategic error they made when the barca player was sent off.Though Chelsea were absolutely right in playing a defensive ( even destructive) game whilst the tie was 0-0 or even 1-0 , they should not have made it their religion and culture , they should have been flexible enough to change things with circumstances.
When the Barca player was sent off , they were chasing the game and only had the one strategy to play for the last 20 minutes of the match , namely to keep throwing players forward in the hope that if the one chance comes the player it falls to will have the skill;technique and composure to take it , that is the time that Chelsea should have changed tact and make the last moments be spent mostly in the Barca half.
Chelsea , on the other hand , should have shown the sophistication to use the sending off to completely change the posture of the game and put Barca on the back foot , it is not as if chelsea do not know how to maintain possession when required.Instead , Chelsea kept dogmatic faith in hoping that the opposition will not ultimately get a shot on target and paid the price , a very high risk strategy that can come unstuck.
But the good thing in all this is that Drogba has apologised.A Person should always be allowed a way back and given the opportunity to make amends and rectify.
And so on to Man Utd.
Essex will be like a morgue today.
This how the loyal never say die fans are taking it this mourning.
And Spain is no place to be for anyone that has an early start the next morning.
Though People living in Lahore will hardly notice the difference from any other quiet night out.